Spot Light: From the Fans
Details

Written by Parrish Preston

My favorite Road Atlanta moment, was in 2007 or 2008, please forgive me I forget the year. It was a rain-drenched practice session that is etched in the forefront of my mind. All of the American Le Mans fans and their teams went into their dry huddles. Me, the diehard, sat in my GTI at the top of turn one hoping for sun.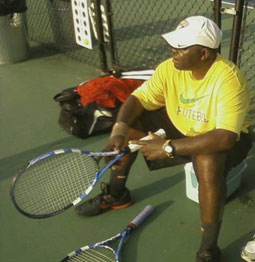 Then, after about 5 minutes I heard a rumble in my chest. I got out of my car, went to the fence and I then saw these halogen headlights ablaze, cutting through the raindrops. I couldn't believe it! It was the gold DHL sponsored P2 RS Spyder! It rocketed past me, through the esses with no fear, it was Pat Long! At the bottom of the curves, up spectator hill, it was a blur, with an 18 to 20 foot rooster tail being sprayed by the Michelin pilots... Wow, I still get goose bumps as I remember my favorite Road Atlanta moment.
I am a tennis pro in Atlanta, GA and racing is my passion. I've not missed a race since the American Le Mans started. My home track, Road Atlanta, is my favorite. The best place to watch the race would be at the top of turn one before the esses as the cars carry the power out of turn one and down shift before the esses as they hit the curbing …SWEET!