Spot Light: From the Fans
Details

Written by Ian Cross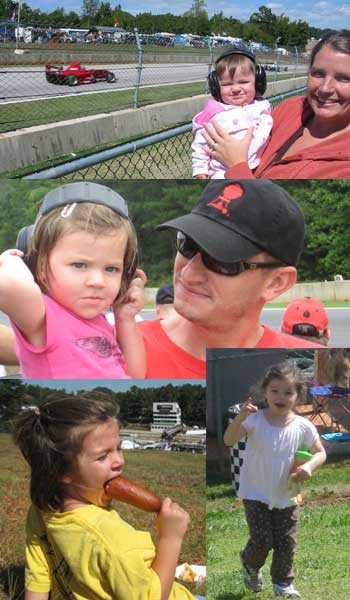 "While attending this year's Petit Le Mans with my four year old daughter Kasey we were asked the question, "is this her first Petit?". I was proud to answer, "No sir, it's her fourth."
I have been an avid race fan since the mid 1990s. In 1999 I attended my first Petit Le Mans at Road Atlanta and was completely awed by the beauty of the circuit and the amazing machines racing. It was love at first sight.
Road Atlanta holds such a special place in my life which is why I was thrilled to bring my daughter and show her the beauty of racing at its finest. Kasey has quite a range of races under her belt at the age of four. She's attended three NHRA events, five NASCAR races, four Petit Le Mans races, two Road Atlanta Superbike Showdown races and over two dozen events at our local dirt track Dixie Speedway. The sights and sounds of being trackside bring out the kid in anyone.
The excitement starts many months in advance to the Petit. Watching the 24 hours of Le Mans at home with the grill going gets us excited and ready to head north to Road Atlanta in the Fall. I always arrive at the Petit Le Mans on Wednesday evening and setup camp to get ready for the rest of my family. The fans and friends of this race are what make it such a special event. Watching my child give a driver like Ron Fellows a high-five from atop my shoulders on the starting grid is something every dad should experience. Road Atlanta is one of the cornerstones of what makes family, fun and racing such a wonderful part of my life.
Thanks to all the wonderful people who make Road Atlanta our favorite get-a-way of the year! Keep up the great work!
Cheers, to my favorite place on earth... Road Atlanta!
Ian Cross