Spot Light: From the Fans
Details

Written by Amanda Patrick and Ned Jung
Amanda Patrick and Ned Jung
Date: October 2, 2010
Location: Starting grid before the race at Road Atlanta
Amanda Patrick: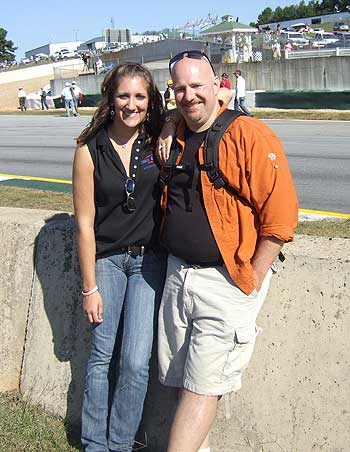 My name is Amanda Patrick. Within the past five years of me working at Costco in Buford I've befriended many members who shop there. A close friend of mine now, Dick Barbour and his wife Ivanna, are a significant part of the Robertson racing team of which I've been a fan of theirs for a while. I appreciate any time I can spend talking with the many team members, and have learned lots from them. I'm slowing developing my own racing career to hopefully be a driver for a team as big as them one day.
One day at work a few years ago I mentioned to a man who was buying a cooking magazine with a picture of a cake on it that if they buy it they have to make it look just like the one on the front cover. He smiled and said, "I'd love to do that for you, I'm actually a Chef." Ever since then when I saw him I asked if he needed help catering any events in that I would love to just help out and get knowledge on a new kind of experience. Who knew I'd be engaged to this man about six months into dating him once I finally helped him with a catering of a wedding. We fell in love in the kitchen it seems, and now engaged on a race track's starting grid. Odd couple he and I but I love him!
Petit Le Mans at Road Atlanta this year was my boyfriend's first time at the races, we've been there for the three days before the race as well as the day of the race! He told me a few weeks before he had plans to ask me to marry him some other time but not at the race. I was starting to boil inside because getting proposed to at the starting grid would be the most romantically perfect place ever for me seeing I love that race dearly. Come the day of the race, we were walking and taking pictures with the cars on the starting grid. We got to the Robertson's team's cars, the Ford GTs, I asked, "Do you want your picture?," he said, "Yes, get my picture in front of the car." As I was getting my camera ready, turning the digital view screen on, I looked through the screen and as I did I focused in to take his picture then blindsidedly noticed what he was doing in the picture. I looked out of the screen and onto his smiling face; he was on one knee shaking, tearing up, and holding out a beautiful ring asking me to marry him! An on looker grabbed my camera to take our picture as I walked up to him. All I could focus on was him, saying yes, and trying to fathom that this was really happening! I thought we were just here for an amazing race, this just made this already incredible day memorable. Everyone around started clapping and taking our picture and congratulating us.
The rest of the day we were so happy, smiling, and had the most excellent time watching the race! I wanted so bad to call my family and tell them, but with the cars so loud racing the whole day I knew I would not be able to hear their reply. We surprised them with the news that night after the race. This is my romantic love story, I hope to see you all at the races! Congrats Peugeot on your win! Every team ran wonderfully this year and the weather was perfect compared to any year I had been there. The whole day was perfect. I owe it all to my mentor Mr. Barbour, and the Robertson Race team for keeping Ned's engagement to me a secret and running a great race!
Ned Jung:
I've known Amanda for about five years now through her working at Costco. I've listened to her talk about and have seen her passion for being a professional driver. She loves the Petit Le Mans races!! She told me that it is the best of all the races that are out there. Me being a Chef and a food guy, I'm not really into racing. Please don't take me wrong I love old school muscle cars!! As far as the Petit Le Mans race goes it's the Iron Chef of races. I can say that I have a love for racing after seeing it through Amanda's eyes. She has the same passion and drive for racing that I do for food.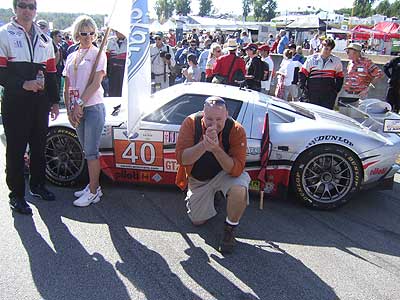 About six months ago Amanda asked me if she could help me out at a particular wedding I was catering. I said yes, sure, I'd love to have your help. And the rest is history; I fell completely in love with her while she was cutting melons up for this wedding. The wedding was a huge hit and everyone was so happy with the food and the professionalism of my staff. The only thing that kept me going through all the chaos was Amanda's smile and her calming touch as we ran by each other. Our relationship has taken off like a 3.5 second car. A few months ago I knew I wanted to ask her to marry me, but where?? I had come up with a few great ideas, but none like at the Petit Le Mans at Road Atlanta. The real question was where and when? In the morning drive up to Road Atlanta on day one of four day's over coffee and biscuits she told me that the day of the race we could go onto the starting grid. That's when I knew when and where. Race day came and the ring was in my pocket for as in racing, timing is everything! When to drop the hammer? And then all the pieces came together...me...her...the team she wants to be a part of, the car she wants to drive, her and my friends, both new and old, Mr. Barbour and his wife Ivanna, Mr. and Mrs. Dave and Andrea Robertson, it's time to drop the hammer. So shaking to no end I took a knee and became the happiest man on the planet. She said "YES" I have to say...after five years in Military Special Forces, this was the most nerve racking thing I've ever done.
One last thing to say, I give my undying Thanks to Dick Barbour, his wife Ivanna, Dave Robertson and his wife Andrea as well as the whole Robertson Race Team!! Thank You Guys for being an unknown part of the happiest day of our lives!! "So far! There is more to come!!"