HSR Mitty Features Legendary Corvette Racer and Local Johnny O'Connell as Grand Marshal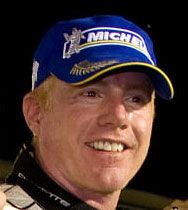 Johnny O'Connell, the premier American Corvette race car driver of his generation and one of the most successful sports car racing drivers of the modern era, has been named the Grand Marshal of the Historic Sportscar Racing (HSR) 43rd Mitty at Michelin Raceway Road Atlanta, April 23 – 25, which showcases Corvette as the Featured Marque.
In a 20-year relationship with GM that ended just two years ago, O'Connell raced and won championships in Corvettes and Cadillacs. It was his accomplishments behind the wheel of "America's Sports Car" that brought him the most fame.
---
A resident of nearby Flowery Branch, Georgia, O'Connell and his family live just minutes away from Michelin Raceway Road Atlanta.
"Being Grand Marshal is quite a cool honor," said the 58-year-old O'Connell, "but it's a double-edge sword! I don't see myself being old enough yet to serve as a Grand Marshal! That it is also at Michelin Raceway Road Atlanta, my home track, well it's special to say the least. I recall going to the Mitty years ago and seeing one of my old cars there. I thought 'wow, my cars are starting to be considered historic!'"