Michelin Raceway Notebook: Machavern, Pombo Takes Pilot Challenge Poles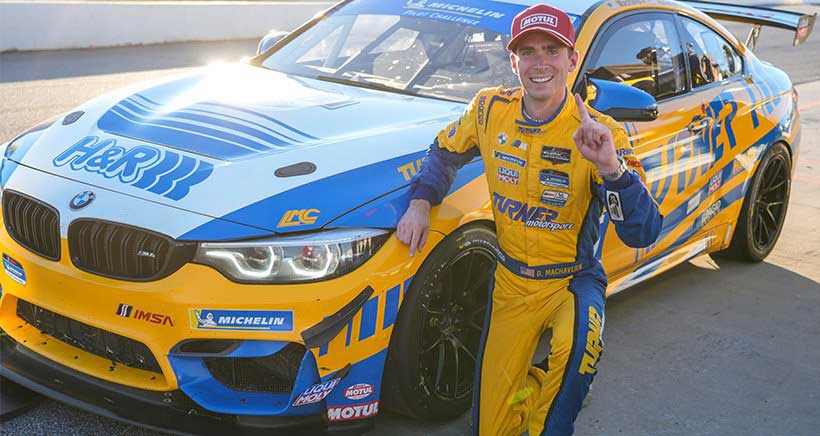 Not only is the Fox Factory 120 the final race of the 2022 IMSA Michelin Pilot Challenge season, it's also the last-ever series appearance for the current generation of the BMW M4 GT4 and the Honda Civic FK7 TCR racing cars.
But those "old" cars showed plenty of speed Thursday in qualifying at Michelin Raceway Road Atlanta.
Dillon Machavern claimed the Motul Pole Award for the Grand Sport (GS) class in the No. 95 Turner Motorsport BMW he shares with Bill Auberlen, while Mat Pombo was fastest qualifier in the Touring Car (TCR) class with a track-record lap in the No. 73 LA Honda World Racing Honda.
Machavern had to get down to business quickly in the 15-minute GS qualifying session shortened by a red flag. Despite only running six laps, he managed a best effort of 1 minute, 26.348 seconds (105.896 mph), besting Tom Dyer in the No. 93 CarBahn with Peregrine Racing Porsche 718 GT4 RS Clubsport by 0.224 seconds.
"Luckily, we were able to get a little bit of clear track because we knew we probably had only one lap to get it done," said Machavern. "We had some heat in the tires, so it was a matter of making absolutely sure to hit my marks on that first lap.
"A bit of a swansong for this M4, but the old car is still pretty fast and I'm excited to put it on pole," he added. "This car has been great for us, but we're looking forward to the next generation – and still hoping to end the old car's story with a win."