Details

Category: Road Atlanta
Created: Monday, February 25 2013 09:04
Published: Wednesday, August 25 2010 05:00
An insider's guide to our favorite racing circuits.
FROM CAR AND DRIVER AUGUST 2010 ISSUE
America's Best Road Courses - Feature
An insider's guide to our favorite racing circuits.
BY MARK GILLIES AND TONY SWAN, PHOTOGRAPHY BY DAN R. BOYD, DAVE SMITH, ROBERT CAMPBELL, BRIAN HIGASHINO, GETTY IMAGES, MARC URBANO, WATKINS GLEN INTERNATIONAL, DMT IMAGING, KEVIN WING, AND PIERRE MUNSON PHOTOGRAPHY, ILLUSTRATION BY PETE SUCHESKI
July 2010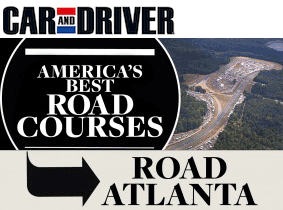 Our country is known for its oval tracks, but the less obvious truth is that the U.S. is also home to some of the finest road-racing courses in the world. The great circuits featured here generally date back to a time when racetracks were supposed to have elevation changes, blind corners, and distinct personalities. Most of the ones built in the past two decades are relatively similar to each other and essentially drama-free, designed to be safe rather than challenging. In the good old days, danger was an accepted part of the deal, and we think a scintilla of fear makes for a more challenging competition venue. Of course, we aren't featuring all of them--some stellar circuits, such as Mid-Ohio, didn't make the ultimate cut, and this will certainly inspire heated online arguments. But, hey, isn't that what the Internet is for?