Details

Category: Motul Petit Le Mans
Published: Monday, October 03 2016 16:31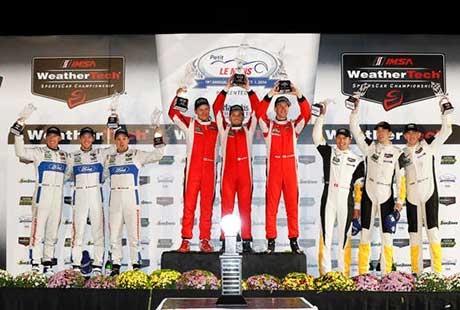 The No. 62 Risi Competizione Ferrari 488 GTE co-drivers Giancarlo Fisichella, Toni Vilander and James Calado broke through for their first IMSA WeatherTech SportsCar Championship GT Le Mans (GTLM) class victory of the season in Saturday's Petit Le Mans presented by Harrah's Cherokee Casino Resort, the final race of the season.
Meanwhile, the No. 4 Corvette Racing Chevrolet Corvette C7.R duo of Tommy Milner and Oliver Gavin picked up their first WeatherTech Championship GTLM title with a third-place class result alongside endurance co-driver Marcel Fassler.
The No. 62 Ferrari team had shown plenty of speed – particularly during the second half of the season – but bad luck plagued them prior to Saturday's race. In the 10-hour Petit Le Mans, however, the Risi Ferrari spent the entire race among the GTLM front-runners, and the vast majority of it at the head of the field.
Fisichella took the lead for the final time with just under 30 minutes remaining when Dirk Mueller brought the No. 66 Ford Chip Ganassi Racing Ford GT – which was on a different strategy – onto pit lane. He brought the No. 62 Ferrari home to victory by 15.618 seconds over Mueller, securing his and the Risi team's first WeatherTech Championship race victory since VIRginia International Raceway in 2014.
"From when we came here from the first practice we were always on the top," Fisichella said. "The car's balance was really good. We made some adjustments in the right direction. I think we dominated the race and the guys did a fantastic job on the pit stops. We, both of us, we drove at the maximum. I think it was a perfect race and we deserve this victory this year. It's good for us, and Mr. Risi and the crew."
Read More at IMSA.com