Details

Category: Motul Petit Le Mans
Published: Friday, September 29 2017 10:45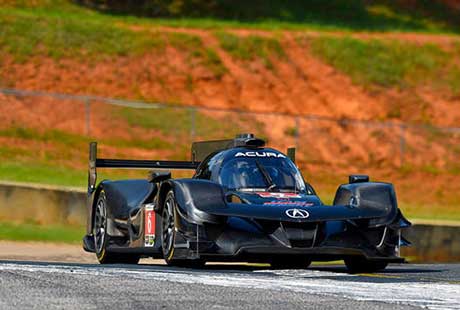 DAYTONA BEACH, Fla. – One day after the official entry list was unveiled for the 20th Anniversary Motul Petit Le Mans at Road Atlanta, an additional entry came in and it's a big one.
Team Penske is bringing an ORECA LM P2 machine for a trio of IndyCar superstars: Juan Pablo Montoya, Helio Castroneves and Simon Pagenaud. Between the three of them, they own five Indianapolis 500 victories and two IndyCar championships.
The Motul Petit Le Mans will provide a "sneak preview" of sorts for Team Penske, as the team re-enters full-time sports car competition with a two-car IMSA WeatherTech SportsCar Championship program with a pair of new Acura DPi race cars next season.
"We've had this race on our radar for some time, but we wanted to wait until we were able to get our drivers some testing at Road Atlanta prior to committing, as it is a very fast track and these cars are very difficult to drive from an IndyCar," said Team Penske President Tim Cindric. "Unfortunately, we confirmed this the hard way, as we have had to totally rebuild our car after an incident during testing last week. ORECA have bent over backwards to be sure we receive everything we need as they understand the importance of this race as our team prepares for the debut of our Acura ARX-05s at the Daytona 24."
Thus far, the team has unveiled half of its 2018 WeatherTech Championship full-season driver lineup. Montoya is set to be joined by 2016 Prototype champion Dane Cameron, who will compete in his final race aboard the No. 31 Whelen Engineering Cadillac DPi-V.R he shares with Eric Curran and Mike Conway in the Motul Petit Le Mans.
"Juan has participated in the majority of our prototype tests since we announced him as one of our full-time Acura drivers," Cindric said. "We would also like to involve our other drivers in the program whenever possible. Helio and Simon have good experience in prototypes at Road Atlanta, so they seem like a natural fit to participate in the Petit for us."
Castroneves won the 2008 Motul Petit Le Mans in a Team Penske Porsche RS Spyder co-driving with Ryan Briscoe, current driver of the No. 67 Ford Chip Ganassi Racing Ford GT. Montoya is a three-time winner of the Rolex 24 At Daytona.
"It will be fun to work with Juan again," said Castroneves. "The car is a blast to drive, as it has lots of power and an incredible amount of downforce. The last time I ran at Petit, I was fortunate enough to be part of the winning team in our class. It was one of the highlights of my career. Now, I'm looking forward to that challenge again, and I'm sure it will be fun racing with these guys in this setting."
Pagenaud won the 2010 Motul Petit Le Mans in a Highcroft Racing Acura ARX-01 P2 prototype with David Brabham and Marino Franchitti as his co-drivers. He also helped Cameron and Curran clinch the 2016 WeatherTech Championship Prototype title with a fourth-place run last year a few weeks after winning his first IndyCar championship.
"It's a bit of a homecoming to get back into a prototype car," Pagenaud said. "They are great cars to drive, and to be paired with Juan and Helio in an endurance event is going to be a lot of fun. This is a chance for me to help Team Penske prepare for next year, while seeing what things we can learn and where we can improve right now."
Live television coverage of the Motul Petit Le Mans begins at 10:30 a.m. ET on FS1, and the race will be streamed in its entirety on FSGO with FS1 authentication. Tickets are available now at RoadAtlanta.com.
---