Details

Category: Motul Petit Le Mans
Published: Tuesday, October 10 2017 09:14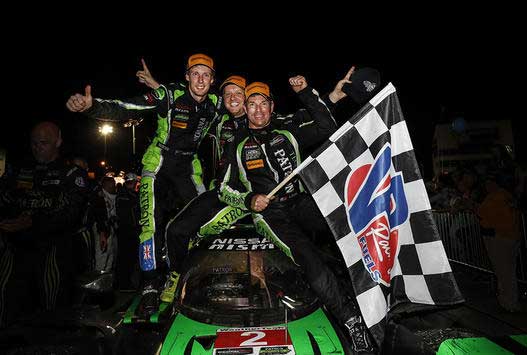 Throughout most of Saturday's 10-hour Motul Petit Le Mans at Road Atlanta, the pair of Tequila Patrón ESM Nissan DPi cars were the class of the field.
The team's No. 22 machine shared by Pipo Derani, Johannes van Overbeek and Bruno Senna, and the No. 2 Nissan DPi of Ryan Dalziel, Scott Sharp and Brendon Hartley were fixtures inside the top five for most of the race and ran either first or second for several hours. There were other challengers, to be sure, but it was readily apparent throughout the race that the Patrón cars would figure in the outcome of the race.
In the end, it all came down to the race's final restart with 28 minutes remaining. Derani held the lead, with Filipe Albuquerque second in the No. 5 Mustang Sampling Cadillac DPi-V.R, Hartley third in the No. 22 and Dane Cameron fourth in the No. 31 Whelen Engineering Cadillac DPi.
By the end of the first lap following the restart, Derani was leading Albuquerque, while Cameron relegated Hartley to fourth in the running order. But incidents and costly penalties wreaked havoc on the top three.
Teammates Albuquerque and Cameron tangled, resulting in an unjustifiable risk penalty for Albuquerque. Derani had a dustup with the No. 67 Ford Chip Ganassi Racing Ford GT of Ryan Briscoe, bringing the No. 22 Nissan onto pit road to serve a penalty for incident responsibility.
Read More at IMSA.com
---