Drama on Tap at Road Atlanta ALMS Finale
Details

Published: Tuesday, October 08 2013 12:22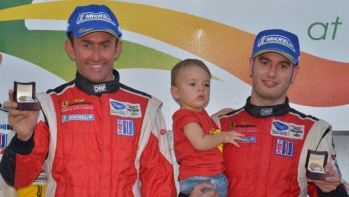 Fans attending the 16th Petit Le Mans powered by Mazda on October 19th are in for a real treat. The American Le Mans Series presented by Tequila Patrón season finale promises plenty of drama with several championships on the line.
Muscle Milk Pickett Racing with drivers Lucas Luhr and Klaus Graf won the recent race at Virginia International Raceway (VIR) and has already clinched the P1 championship. However, a win at Road Atlanta will be difficult as defending Petit Le Mans champion Rebellion Racing returns with its Lola Toyota. Last year, the much anticipated duel between Rebellion and Muscle Milk ended when a collision with a GTC car caused an extended pit stop for Pickett's team, handing Rebellion a somewhat easy victory.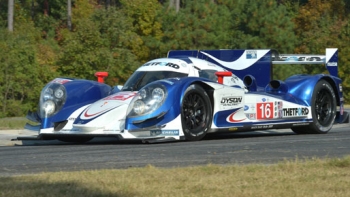 At VIR, quick work in the pits gave Luhr the lead under an extended caution. He pulled away on the restart in the No. 6 HPD ARX-03c and beat Dyson Racing's Guy Smith to the checkered flag by 22.846 seconds to score his 49th career ALMS victory.
Meanwhile, the driver championships in both the P2 and Prototype Challenge presented by Continental Tire will be decided at Road Atlanta. Level 5 Motorsports wrapped up the P2 team title.
In the P2 class at VIR, Ryan Briscoe beat Scott Sharp to the checkered flag by 15.3 seconds for his fourth victory of the season, joining seven-time winner Scott Tucker in the No. 551 Level 5 Motorsports HPD ARX-03b. Sharp finished second with Anthony Lazzaro in the No. 01 Extreme Speed Motorsports Tequila Patrón HPD, followed by Level 5's Stefan Johansson, Marino Franchitti and Guy Cosmo in the team's No. 552 entry.
Heading to Road Atlanta, Franchitti unofficially leads Cosmo by four points (154-150), followed by Tucker with 149 points and Sharp with 143.
"We had a lot on the line and we had a real good strategy coming in," Tucker said. "The car was great for me on my stint and Ryan did a great job. No mistakes, everything went as planned. We're still gunning for some championships and we'll still need to put on our best game at Petit."
A first-time winner at the recent race in Austin, Texas, Kyle Marcelli and Chris Cumming scored their second consecutive Prototype Challenge presented by Continental Tire victory. Driving the No. 8 BAR1 Motorsports ORECA FLM09, Marcelli took the checkered flag by 11.590 seconds over championship contender Jon Bennett and Tom Kimber-Smith in the No. 05 CORE entry.
PC championship leader Mike Guasch was clipped from behind by a P2 car on lap 5, leading to the first of three caution flags. Guasch was running third at the time of the incident but lost 10 laps for repairs to the No. 52 PR1 Mathiasen entry. Guasch and Dane Cameron returned to finish fifth. Entering the finale at Petit, Guasch leads Cumming by 11 points (128-117), with Bennett one point back with 116, followed by Colin Braun, 112, and fourth-place finisher Tristan Nunez, 110.
"We're at a level of competition that's so good, we really have to be on our game," Marcelli said. "Now we move to Road Atlanta. I've had a pole there and we really want to finish the season strong and bring home another win."
In the fiercely competitive GT class, the Risi Ferrari claimed its first win of the season at VIR. Matteo Malucelli pulled away over the closing laps to give Risi Competizione its first ALMS victory since Road America in 2011.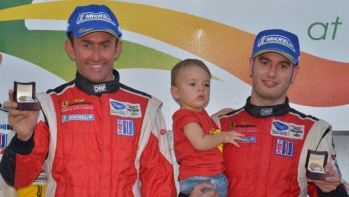 It was Malucelli's first career victory in ALMS competition, while veteran co-driver Olivier Beretta notched his 43rd career victory in the series. The moment of truth came with just under 30 minutes remaining when Malucelli powered his Ferrari F458 Italia past Patrick Long in the No. 06 CORE autosport Porsche.
"It is always nice to be back and we had a really good race today," Beretta said. "We have been unlucky since Sebring, and at Long Beach, and Laguna we had pole. The luck has not been on our side. I'm really happy for Risi and Matteo, it is his first win. I hope to go to Petit and get another win for this team. To get the win now is great for the team, and to get a win for Ferrari. Now we'll go to Petit and do our best."
Long and co-driver Colin Braun finished second ahead of GT points co-leaders Jan Magnussen and Antonio Garcia in the No. 3 Chevrolet Corvette C6 ZR1 for Corvette Racing. Magnussen and Garcia extended their lead in the championship to 16 points, 125-109, over Dirk Muller, who finished fourth at VIR in the No. 56 BMW Z4 GTE alongside co-driver Joey Hand.
While the driver championship is still up for grabs with 24 points available to the race winner in the season-ending Petit Le Mans powered by Mazda, the third-place run by Magnussen and Garcia was enough to clinch the ALMS GT team championship for Corvette Racing and the manufacturer's championship for Chevrolet.
In the GT Challenge (GTC) category, No. 66 TRG Porsche 911 GT3 Cup co-drivers Damien Faulkner and Ben Keating parlayed their second consecutive class pole position into their second consecutive victory at VIR.
Jeroen Bleekemolen and Cooper MacNeil extended their lead in the GTC driver championship with a second-place run at VIR in the No. 22 WeatherTech Porsche 911 GT3 Cup for Alex Job Racing. Heading into the season finale, the duo leads Henrique Cisneros by 13 points, 131-118, with 24 points still available.
Cisneros and co-driver Sean Edwards took third in the No. 30 MOMO Porsche 911 GT3 Cup for NGT Motorsport. Also still alive in the GTC championship chase are No. 45 Flying Lizard Motorsports Porsche 911 GT3 Cup co-drivers Spencer Pumpelly and Nelson Canache Jr., with 115 points.