Meet Miss Road Atlanta:
Brittney Leigh
Details

Published: Friday, October 11 2013 10:29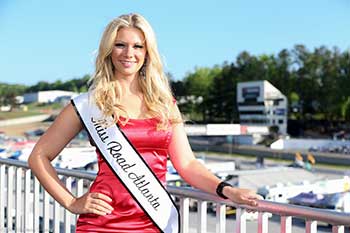 A native of Georgia, Brittney is a fulltime spokesmodel with an extensive portfolio including appearances in Maxim magazine, Seventeen magazine, Teen Prom magazine, the Atlantan, Wrangler Jeans catalog, Jezebel and many more!
There's a good chance you have seen Brittney on billboards across the nation, in commercials, posters and in person at racing events, trade shows, and a wide variety of sporting events!
"I travel all over doing what I love! I couldn't be more blessed with such an amazing career. I'm also an avid outdoors girl. When I'm not working I'm outside hunting, fishing, camping, at the races, exercising, shooting guns and bows, 4-wheeling, playing with my dogs and much more."
"Hunting and fishing are where I go for peace of mind. I love wild game and of course my fruits and veggies. I'm not gonna lie - I do have a huge sweet tooth and being from the south it isn't easy to say no to a lot of foods."
"Cooking is a passion of mine! It's one of my favorite things to do because I love food! But in my line of work I've learned to eat in moderation and eat a lot healthier. In addition to eating healthy, I try to workout at least 3-5 times a week. With my busy travelling schedule sometimes it's hard to find the time. I try to stay fit & healthy for myself, for my job and also for hunting season! You gotta be in shape to walk miles in the woods, climb trees and to be able to carry out your harvest."