Details

Category: Road Atlanta
Published: Tuesday, March 03 2015 18:28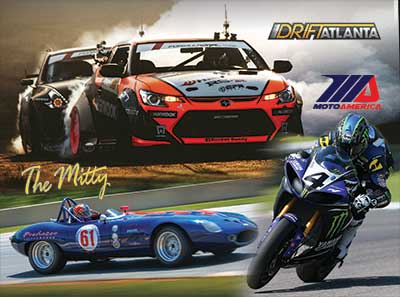 Vintage racing. Drifting. Sportscar racing. And now, after a short hiatus, Road Atlanta would like to welcome top-tier two-wheeled racing back to our 2015 schedule! MotoAmerica, the new premiere North American motorcycle championship, joins the lineup of spectator events at Road Atlanta this season and begins a new chapter in our rich motorcycle racing history. MotoAmerica is seeking to reinvigorate professional motorcycle racing in North America by assembling a season-long roster of the best competitors in the world at some of the most challenging and scenic race tracks across the country.
MotoAmerica joins the historic Mitty, Drift Atlanta, and a number of club racing weekends to round out the spring featured events at Road Atlanta. The 18th Annual Petit Le Mans powered by Mazda, SCCA American Road Race of Champions and a NASA club racing weekend will finish out the spectator races this season.
See full 2015 Schedule >>>
Check out our Track Days and Car Clubs >>>

Tickets On Sale Now
Tickets for many of Road Atlanta's spectator events are available now at roadatlanta.com and while you can certainly wait and purchase them at the gate for most events, we recommend placing your orders in advance. With some races, like Petit Le Mans powered by Mazda, advance ticket prices will save you some cash and ensure that you're race-day ready.
With this many exciting events on the calendar for 2015, the Ultimate Fan Club Membership that Road Atlanta offers might be a great fit for you. Ultimate fans get access to every single spectator event at the track, including Petit Le Mans powered by Mazda, for just $299.
Get your tickets now:

MotoAmerica April 17-19
Classic Motorsports Mitty April 24-26
Mitty VIP Package
Drift Atlanta May 8-9
Drift VIP Tickets
Petit Le Mans powered by Mazda Sept. 30-Oct. 3
Ultimate Fan Club Membership


Coming Up: NASA March 13-15
NASA heads to Road Atlanta for the first time in 2015 on March 13, 14 and 15 for their "Race for the Pi" event (get it, because it's on 3.14? We love racing references to mathematical constants!). This race weekend will include a Camaro-Mustang Challenge, Thunder and Lightning Sprint Races and a Friday Fun Race, as well as all the wheel-to-wheel action that fans expect from NASA competition.
Join us on 3.14 at NASA's "Race for the Pi" to see all your favorite classes, where there's sure to be something for everyone to enjoy. More Information >>>

Coker Tire Tour to the
Classic Motorsports Mitty
If you're on the hunt for the coolest way to travel to the Classic Motorsports Mitty, look no further! The Coker Tire Tour is setting out from their headquarters in Chattanooga, Tenn., on Friday, April 24, to make the scenic drive down to Road Atlanta for the Mitty weekend.
The tour, which is open to classic cars, sportscars, hot rods and muscle cars, will kick off with a cookout at Coker Tire's headquarters on Thursday, April 23, followed by a cars and coffee event the next morning. The convoy will then begin the picturesque and challenging drive through the Blue Ridge Mountains and Chattahoochee National Forest. Participants can enjoy the views and sweet treats from Mercier Orchards, where the procession will stop for lunch, then continue on through Dahlonega to the final destination at Road Atlanta.
Tickets to be a part of the tour are just $75 and include meals, a spot in Coker Tire's car corral at the Mitty, a ticket to the event and a parade lap on the race track. More details >>>

Courtyard Marriott
Mall of Georgia
Looking to enjoy a luxurious stay just a short drive from Road Atlanta? The Courtyard Marriott at the Mall of Georgia in Buford is an excellent option for racing fans and business travelers alike. With an on-site bistro and bar as well as a biking trail directly behind the hotel, the Courtyard Marriott provides added amenities for every guest.

Jack's
Jack's Restaurant and Bar has become a staple in the Braselton dining scene and a hot spot for fans during race weekends. Jack's offers a wide variety of menu options from wedge salads to grilled chicken dinners to their famous pork chops and more. Stop by when you're in town and enjoy the southern hospitality, great food, and great drinks that Jack's serves up.