Details

Category: Road Atlanta
Published: Monday, April 20 2015 11:22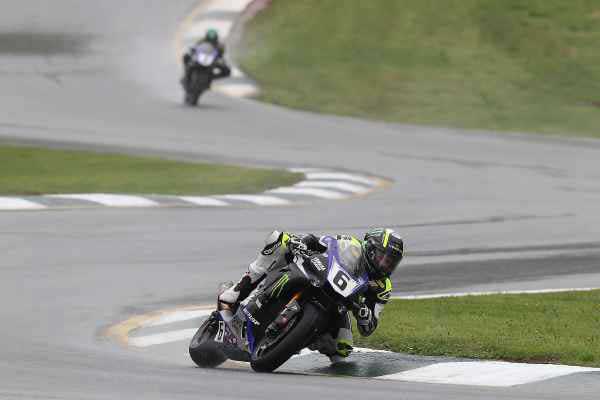 Monster Energy/Graves Yamaha's Cameron Beaubier had a perfect day in imperfect conditions at Road Atlanta, the Californian having it all his way in the Honda Superbike Challenge of Road Atlanta on a day when his main rivals in the championship faltered.
Beaubier topped his teammate Josh Hayes by 4.699 seconds in the first of two wet races on a day of horrible weather in Georgia. Then he and the rest of the racers had to endure a lengthy wait as the MotoAmerica and Road Atlanta crews were forced to wait out a storm before getting the flooded track race-ready again for what turned out to be a race time of close to 5 p.m.
In race two it was Beaubier again taking victory as he watched both of the men considered to be his fiercest competition for this year's title - Hayes and Yoshimura Suzuki's Roger Hayden (with his second race fall of the day) - crash out of the race. With those two out, it left Beaubier to move past fast starter Jake Lewis, on the second Yoshimura Suzuki GSX-R1000, to take victory by 3.789 seconds. Lewis ended up second, pairing that with his first-race third, and giving the 19-year-old Kentuckian the first two podiums of his Superbike career in just his third and fourth Superbike races.
With Lewis finishing third behind the two factory Yamahas in race one, fourth went to Yamaha Blumaz's Bernat Martinez with the Spaniard bettering his fourth in race one by one spot to earn the first AMA Superbike podium of his career in race two. But this day was all about Beaubier who earned the fifth and sixth Superbike race wins of his young career.
"I struggled a lot in the wet in the few outings we had last year," Beaubier said after sweeping the doubleheader for the first time in what is his sophomore season of Superbike racing. "To get two wins in the wet, sketchy conditions today was good for my confidence. In the first race Josh (Hayes) and Roger (Hayden) were riding really good and it was a bummer to see Rog go down. I put my head down and started clicking off laps. I just kept going, kept going. I had a good feel in the wet. I didn't want to throw it down, but I just kept clicking off laps.
Read More at motoamerica.com