Papa John's Joins Drift Atlanta as Presenting Sponsor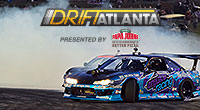 Papa John's Pizza has partnered with Road Atlanta for a multi-year deal, beginning at this year's 13th annual Drift Atlanta, as the event's presenting sponsor. Drift Atlanta presented by Papa John's will return to the site of the first-ever Formula DRIFT event May 6-7.
Since 2004, Road Atlanta has hosted Formula DRIFT's biggest stars and has become a top destination for motorsports enthusiasts across the country. This year, Papa John's becomes the newest addition to the Drift Atlanta show and will be present at the facility for the duration of the racing season in the form of signage, vending and additional promotions.
Read More
---

Formula DRIFT presented by BlackVue has renewed their partnership with Road Atlanta for three years extending into 2018. The inaugural Formula DRIFT event was held at Road Atlanta in 2004 and will now be one of the longest relationships for the Series.
Read More