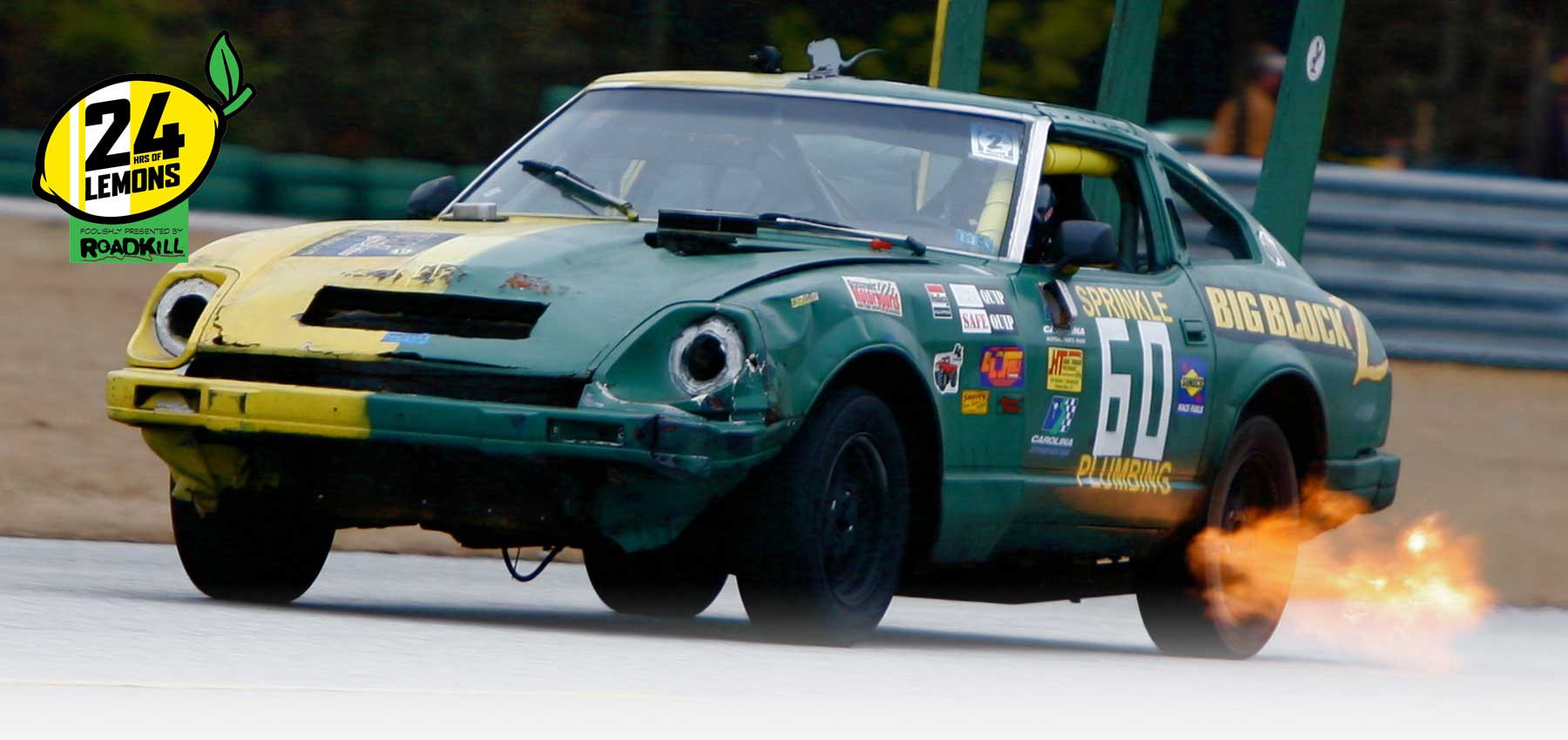 An endurance roadracing series for cars that cost $500 or less.
The 24 Hours of LeMons is a series of endurance races held on paved road race courses across the United States, Australia (since October 2015) and New Zealand (first event held September 2016). The series holds the Guinness World Record for the "Most participants in one race" (216 cars)
The title is a parody of the long running annual 24 Hours of Le Mans race, and lemon cars. Teams of 4 or more drivers compete for up to 24 hours in race-prepared cars that cost no more than US$500 for cars in the USA series, AUD$999 in Australia and NZD$999 in New Zealand; as with folkracing there is a price limit. These races set themselves apart from the typical road race by the unusual penalties and punishments meted out by judges, as well as a blatant disregard for traditional Motorsport politicking. The series is similar to the ChumpCar World Series (almost the same rulebook), but with a more carnival like atmosphere.
Overnight camping allowed.
Permanent Restrooms: Yes
Showers: Yes
Vehicle Restrictions: Except for street vehicles coming to or leaving the facility, no motorized vehicles may be used on track property from one hour after the checker/on track running until sunrise. No skate boards, hoverboards, Razor-type scooters. NO RACE MOTORS BETWEEN

6pm

and

8am

!
Motorized pit bikes: You must wear a helmet.
Unlicensed motorized pit vehicles (scooters, ATV's, motorcycles, golf carts)must be registered with the track for $50 for a use permit.
Speed limit in the paddock is 10mph.

No firearms or fireworks may be used on track property. No riding pit ATV's / motorized bikes on Ring Roads.
NO DRONES.
FUEL AND PARTS
Fuel sold on site: Yes, VP 93 and 96 unleaded, and 100 and 110 leaded.
Kids 12 and under always enter for free
When Accompanied by an Adult.