Dignitaries Dedicate Michelin Tower at Michelin Raceway Road Atlanta
Officials from IMSA, Michelin and Michelin Raceway Road Atlanta dedicated the track's most visible improvement with Friday's ribbon-cutting ceremony outside the sparkling new Michelin Tower that hovers above the front stretch of the historic circuit outside Atlanta.
The 52,000-square-foot facility, four stories high with a viewing deck on top, houses three floors of hospitality and suite space as well as one floor for the media center and broadcast booths.
Read More
---
BMW To Serve As Official Pace Car and Safety Car at 22nd Annual Motul Petit Le Mans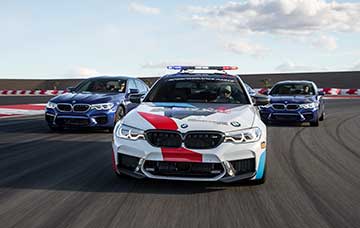 North American Premiere of Two 2020 BMW M Models to be Held Friday
For a second consecutive year, BMW M will have a major presence at Michelin Raceway Road Atlanta during the IMSA WeatherTech SportsCar Championship weekend, as a BMW will serve the roles of both Official Pace Car and Official Safety Car for the 22nd Annual Motul Petit Le Mans.
Read More
---