Wild Motul Petit Le Mans Sees No. 31 Cadillac Take GTP Title, No. 60 Acura Win Race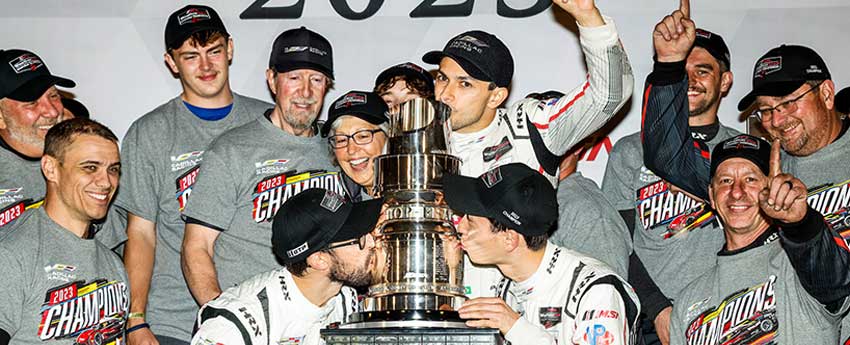 Provisional Championship Points
Provisional IMSA Michelin Endurance Cup Points
There were two major turning points in the three-way battle for the Grand Touring Prototype (GTP) class title in the 2023 IMSA WeatherTech SportsCar Championship Saturday during the 26th annual Motul Petit Le Mans at Michelin Raceway Road Atlanta.
A trio of protagonists were separated by just 11 points at the start of the day, but the No. 6 Porsche Penske Motorsport Porsche 963 was eliminated from championship contention just 74 minutes into the 10-hour event when Nick Tandy was swept into an accident triggered by a pair of Grand Touring (GT) cars.
As the race unfolded, the championship lead bounced back and forth between the No. 31 Whelen Engineering Racing Cadillac V-Series.R that led the standings heading into the weekend, and the No. 10 Konica Minolta Racing Acura ARX-06 that took over the top spot after points were awarded for qualifying.
With 62 minutes remaining, Filipe Albuquerque in the No. 10 attempted to pass Pipo Derani in the No. 31 for second place around the outside of Turn 1, a fast, 90-degree right-hander. The cars made side-to-side contact before the Acura speared to the left across the grass into heavy contact with a tire barrier. IMSA race control reviewed the coming-together but ruled no incident responsibility.
The dramatic turn of events essentially guaranteed the championship would go to the No. 31 Cadillac, with drivers Derani, Alexander Sims, and Jack Aitken. They duly clinched the crown with a sixth-place finish.
Derani and Sims ended the season with a 21-point advantage over Albuquerque and co-driver Ricky Taylor, who finished just a single point ahead of Blomqvist and Braun. The No. 60 duo led the GTP class with three race wins in 2023.