Michelin Raceway Road Atlanta

Round 2: Ferrari Racing Days
Ferrari Racing Days came to a thrilling conclusion at Road Atlanta, featuring the unparalleled delights of F1 Clienti, XX Programmes, Club Competizioni GT and of course Ferrari Challenge. All told, over 100 cars took to the famed 2.54 mile circuit in celebration of the passion of racing with Ferrari.
---
Ferrari 488 Challenge Evo completes first race
After much fanfare and eager anticipation from drivers, the Ferrari 488 Challenge Evo made its on-track debut at Ferrari Racing Days, earning universal praise. Drivers were particularly pleased with the improved front-downforce, which gives the car a more neutral behavior in higher speed corners, and the improved Pirelli tires which provided equivalent performance with much less degradation over the course of the thirty minute races.
The weekend began with testing sessions on Wednesday and Thursday before drivers began truly pushing the new car to its limits on Friday practice sessions followed by qualifying and racing action on Saturday and Sunday.
Over the course of the weekend, the Challenge drivers and the thousands of spectators who attended the festivities also had the once-per-year opportunity to experience the thrill of Ferrari F1 cars (via F1 Clienti) and XX Programmes cars on-track as part of the annual Racing Days festivities.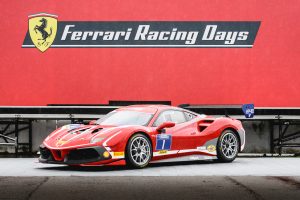 Ferrari Racing Days
RACE RECAPS
TROFEO PIRELLI
Trofeo
Cooper MacNeil (Scuderia Corsa – Ferrari of Westlake) continued his season in perfect fashion, again earning pole position, fastest lap and the race win in both race 1 on Saturday and Race 2 on Sunday.  On both days, his nearest challenger was Canadian driver Martin Burrowes (Ferrari of Ft. Lauderdale) who took two second place finishes, vaulting him into a tie for the fourth position in the standings, despite having missed the first round at Daytona.  Third place on Saturday went to Joe Rubbo (Ferrari of Long Island) though an issue during Sunday's qualifying precluded the driver from setting a representative time and thus left him stranded down the grid.  In his place was Ross Chouest (Boardwalk Ferrari), who was tied with Joe at the end of the second round.
Trofeo Am
Jean-Claude Saada (Boardwalk Ferrari) made a triumphant return to the top step of the podium in race 1 on Saturday on the back of a pole position effort in qualifying.  He was chased home by Brian Davis (Ferrari of Palm Beach) in second and Barry Zekelman (Ferrari of Ontario), who also took home the fastest lap in the category in race 1, in third.  On Sunday, it was a very different story as Dave Musial (Ferrari of Lake Forest) took the win, again ahead of Brian Davis with John Megrue (Ferrari of Long Island) rounding out Sunday's podium.  The news that dominated the class, however, was the promotion of Coppa Shell winner Jason McCarthy (Wide World Ferrari) from the Coppa Shell category into Trofeo Pirelli AM.  Ferrari Challenge regulations dictate that McCarthy keep all of the points earned earlier in the season, so while he currently leads the Trofeo Pirelli AM standings, we will have to wait and see if he can sustain that kind of result in this more competitive environment. 
COPPA SHELL
Coppa. Jason McCarthy (Wide World Ferrari) took back to back wins, earning fastest lap on both occassions in what became his final race in the Coppa Shell category.  He was followed home by Jay Screibman (Cauley Ferrari) in race 1 and then by last year's Coppa Shell AM champion, Brad Horstmann (Foreign Cars Italia) in race 2.  Osvaldo Gaio (Miller Motorcars) took third on Saturday, and Kevan Millstein (Ferrari of San Diego) made a return to a Ferrari Challenge podium with third on Sunday.  With the promotion of Jason McCarthy, however, Osvaldo Gaio now finds himself at the head of the Coppa Shell pack, owing mostly to his impressively consistent results thus far this season.
Coppa Am. Justin Wetherill (Ferrari of Central Florida) took a dominant win in race 1 on Saturday before faltering in race 2 on Sunday and ceeding the top step of the podium to Michael Quattlebaum (Ferrari of Houston). Saturday's podium was completed by John Lennon (Ferrari of San Francisco) and Michael Watt (Ferrari of Atlanta). On Sunday, numerous penalties affected the final finishing order as drivers were found to have passed under yellow flag conditions. Behind Quattlebaum's first place finish, Todd Coleman (Ferrari of Denver) and John Cervini (Ferrari of Ontario) completed the top three.
Schedule.The 2020 season of Ferrari Challenge Trofeo Pirelli will make its next stop at Indianapolis Motor Speedway, April 17-19.