Michelin Raceway Road Atlanta
America's Best Road Courses - Feature
An insider's guide to our favorite racing circuits.
FROM CAR AND DRIVER AUGUST 2010 ISSUE
America's Best Road Courses - Feature
An insider's guide to our favorite racing circuits.
BY MARK GILLIES AND TONY SWAN, PHOTOGRAPHY BY DAN R. BOYD, DAVE SMITH, ROBERT CAMPBELL, BRIAN HIGASHINO, GETTY IMAGES, MARC URBANO, WATKINS GLEN INTERNATIONAL, DMT IMAGING, KEVIN WING, AND PIERRE MUNSON PHOTOGRAPHY, ILLUSTRATION BY PETE SUCHESKI
July 2010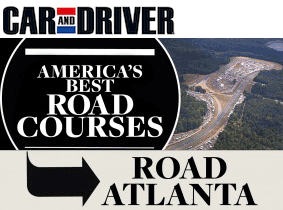 Our country is known for its oval tracks, but the less obvious truth is that the U.S. is also home to some of the finest road-racing courses in the world. The great circuits featured here generally date back to a time when racetracks were supposed to have elevation changes, blind corners, and distinct personalities. Most of the ones built in the past two decades are relatively similar to each other and essentially drama-free, designed to be safe rather than challenging. In the good old days, danger was an accepted part of the deal, and we think a scintilla of fear makes for a more challenging competition venue. Of course, we aren't featuring all of them--some stellar circuits, such as Mid-Ohio, didn't make the ultimate cut, and this will certainly inspire heated online arguments. But, hey, isn't that what the Internet is for?
---
Road Atlanta - Feature
An insider's guide to our favorite racing circuits.
WHY WE LOVE IT
Old-timers swear this track was ruined in 1998 when new owner Don Panoz inserted a chicane into the long back straight, thus bypassing the infamous dip prior to the blind last corner.
But they're wrong: This undulating ribbon is still one of the most exciting places to drive a car, any car. And it's insanely quick. The only truly slow corners are the chicane and Turn Seven, which leads onto the back straight. We love the blind approach to Turn 12 and how you have to carry the precise amount of speed up the front straightaway into Turn One. The stretch out of that corner into Turn Five is like running through a huge soup ladle with curves in it.
The track feels like it's in Gone with the Wind country, but it's less than 50 miles from downtown Atlanta. Swells can stay at Panoz's Chateau Elan resort if they can't abide Atlanta traffic.
WHERE IT IS: Braselton, Georgia
WHEN IT OPENED: September 1970
LENGTH, NUMBER OF TURNS: 2.54 miles, 12
HOW TO GET ON IT: Skip Barber (www.skipbarber.com) invites you to one of its schools here. Clubs--such as Porsche and BMW--rent the facility, but individuals have to contact the track for pricing and insurance information (800-849-7223). (www.roadatlanta.com)
HISTORICAL NOTE: An open field became a racetrack in just six months after Can-Am officials awarded the Bridgehampton race to Road Atlanta's founders