Michelin Raceway Road Atlanta
Three Takeaways from the TireRack.com Grand Prix at Michelin Raceway Road Atlanta
Three Takeaways from the TireRack.com Grand Prix at Michelin Raceway Road Atlanta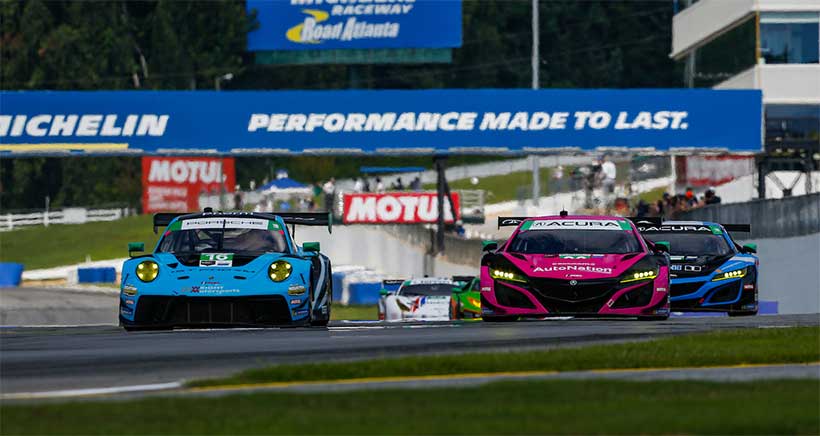 By David Phillips
Wowzers!
Fresh off a compelling if relatively straightforward, two-class GT race at VIR, we were treated to a veritable three-ring circus at Michelin Raceway Road Atlanta, what with Daytona Prototype international (DPi), GT Le Mans (GTLM) and GT Daytona (GTD) going down to the final lap before the finishing orders were decided.
Sure the 11th hour (actually fifth hour and 55th minute) restart ensured a dramatic finish, but so close was the competition in those three classes that competitors and fans alike would likely have been on the edge of their proverbial seats even had the race gone green for the final 30 minutes.
Revised Spectators Guide
Apologies for overlooking what turned out to be THE most crucial section of pavement in last week's Spectator's Guide for Michelin Raceway Road Atlanta. We're talking, of course, about pit in and pit lane itself.
For it was on pit in that at least two race-shaping incidents occurred. The first saw Helio Castroneves driving with the heart – and brain – of a 20-year-old, accelerate above and beyond the pit lane speed limit after having already slowed down to the legal speed – thus incurring a penalty.
Much later – and depending on your perspective – Juan Pablo Montoya either brake-checked Ryan Briscoe or was the victim of "avoidable contact" when the Penske Acura and Konica Minolta Cadillac came together on pit in at virtually the same spot of Castroneves' earlier transgression.
The only perspective that really mattered, of course, was that of race control which penalized Briscoe for incident responsibility. While Castroneves, co-driver Ricky Taylor and Acura Team Penske had enough time to overcome the pit lane speeding penalty (not to mention a subsequent and more severe stop-plus-60-seconds penalty when the Brazilian 20-something ran a red light at pit out) and take the overall win, the timing of Briscoe's penalty so late in the race gave him little time to recover resulting in a fifth-place finish.
Read More at IMSA.com