Michelin Raceway Road Atlanta

Coca-Cola, Porsche Join Forces for Iconic Livery on Weathertech Championship GLTM-leading 911 RSR Race Cars for 2019
Coke is it!
That familiar slogan adorned the sides of IMSA legend Bob Akin's Porsche race cars from 1980 through 1987, along with unmistakable Coca-Cola red paint scheme and the white Coke "wave." It's one of the most iconic liveries in IMSA history – and it's making a comeback.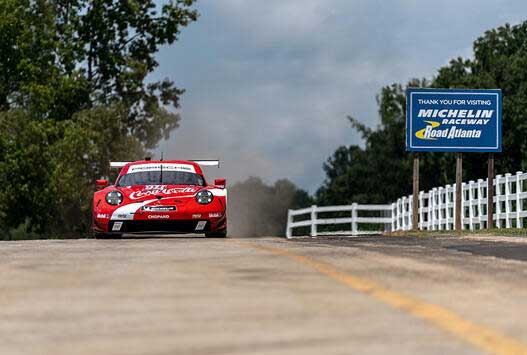 The pair of IMSA WeatherTech SportsCar Championship GT Le Mans (GTLM) class-leading Porsche 911 RSRs race cars will wear the livery for Motul Petit Le Mans at Michelin Raceway Road Atlanta on Oct. 9-12. The 10-hour race serves as the season finale for both the WeatherTech Championship and the IMSA Michelin Endurance Cup.
It also closes the curtain on the IMSA 50th Anniversary Celebration in spectacular fashion.
"I can't think of a better way for fans to celebrate the final race of IMSA's 50th Anniversary season by seeing two of the most iconic brands in the world – Porsche and Coca-Cola – bring back an unforgettable livery," said Jim France, NASCAR chairman and IMSA chairman, who attended Tuesday's unveiling of the livery at Coca-Cola's world headquarters in downtown Atlanta alongside IMSA CEO Ed Bennett and President Scott Atherton.
"Bob Akin was one of a kind, much like Porsche and Coca-Cola, and to see this livery at Michelin Raceway Road Atlanta for this year's Motul Petit Le Mans will certainly be exciting for everyone."