Michelin Raceway Road Atlanta

Château Élan Official Luxury Winery and Resort
We're proud to welcome Château Élan as the new Official Luxury Winery and Resort of Michelin Raceway!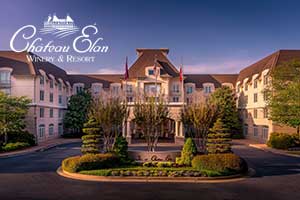 This partnership brings together two of the Southeast's premier entertainment destinations, which both so happen to be within a stone's throw of each other! Michelin Raceway and Château Élan are embarking on a multi-year partnership that includes Château Élan branding both on-site at the track and in many digital and marketing assets.
The resort is currently in the midst of completing a $25 million renovation, which will debut in November. This property-wide upgrade includes a complete overhaul of the resort's 251 guest rooms and 24 suites, food and beverage options and grand lobby. The renovation is the first of this scale in the Château's 35-year history. The upscale resort features amenities including a spa, 45 holes of golf and a winery producing both native muscadine grapes and those for traditionally-European wines like Merlot and Chardonnay.