Michelin Raceway Road Atlanta

Elias Wins Race Two At Michelin Raceway Road Atlanta
Yoshimura Suzuki's Toni Elias won his first race of the 2019 MotoAmerica EBC Brakes Superbike Series, the Spaniard besting Westby Racing's Mathew Scholtz by 1.839 seconds under sunny skies in the Suzuki Championship at Michelin Raceway Road Atlanta.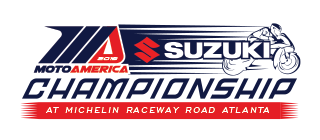 The win, combined with his second place from Saturday, gives Elias the early lead in the EBC Brakes Superbike Championship with 45 points – four more than yesterday's race winner Cameron Beaubier, who was third today.
As was the case yesterday, the Superbike race began with six riders running together at the front with those three – Elias, Scholtz and Beaubier – joined by Beaubier's Monster Energy/Yamalube/Yamaha Factory Racing teammate Garrett Gerloff, Attack Performance Estenson Racing's JD Beach and Yoshimura Suzuki's Josh Herrin.
Gerloff was the first to have issues, the Texan slowed by a front fender flapping in the wind. Despite repeated attempts at kicking the bodywork off his bike, Gerloff eventually had to pull over to remove the fender. He would continue onward and eventually finish ninth.
Herrin, meanwhile, lacked the pace to stay with the top four with the race coming down to just three in the final laps as the trio pulled slightly clear of Beach. Then both Beaubier and Scholtz were bauked badly by a back markerwith two laps to go, costing them any shot at Elias and also allowing Beach to move to the tail of the battling duo. Scholtz ended up getting the edge on Beaubier to take second with Beach finishing just .3 of a second off the back of the defending MotoAmerica Superbike Champion.
Apparently, the birth of his son just a few weeks ago hasn't slowed Elias who leaves the opening round with the points lead for the fourth straight season.
"Everybody was telling me that," Elias said of his pace being slowed with having a child. "I was kind of worried. When he was born, in my head I said, 'what the heck? Now I have a really strong reason to fight for,' so that's what happened. I'm super motivated. I didn't slow down. So, I'm happy. This winter the team worked so good. But, honestly, I was thinking to be more comfortable in these first rounds. Last year to be more competitive we took a good direction. I was thinking this would change a little bit… but then we arrive here and seems different… all the time the bike is moving a lot around. We were going to do some changes for this morning, but we couldn't try anything. For everybody it was the same. Same tire. Harder than yesterday. I was not thinking yesterday to do that slow pace. I think it's the race. A little bit frustrated. I couldn't do what I wanted. In the mid part of the race I start to lose a lot of grip, maybe less than JD and Mathew. But Cameron was so strong. I missed something there. Anyway, for today I was going to use the same tire as Dunlop wanted, and it was really good. The tire has been super consistent all the race, but we still have to improve in some areas. Anyway, yesterday 20 points. Could be zero. Now 25 (points), so perfect Sunday."
Scholtz was much happier on Sunday, the South African putting his Yamaha second after fighting with Elias for most of the race.
"I was following Toni and I kind of thought that there were one or two places where I could pass him that would have been sketchy, but I think it would have been possible," Scholtz said. "So, I was trying to save it for the final lap. Then, unfortunately, I think it was going into corner six, Cameron (Beaubier) passed me and then we were coming up on the lapped rider. I was hoping that Cameron was going to pass him and actually stand him up kind of thing, or the lapped rider would follow Cameron and I could draft him and sort of get up next to Cameron and pass him and set up the final lap. Unfortunately, he took them pretty hard. Cameron touched him, which kind of let me pass Cameron, but then the lapped rider sort of moved from the right-hand side to the left and we both had to shut off. Then I was worried about JD catching us. The final lap I just passed Cameron and Toni was maybe about one to two seconds up. I knew I was never going to catch him, so I was riding pretty defensively after that. I was very, very happy to be up here in second place after yesterday's fourth. It was a little bit of a disaster towards the end yesterday. I was sketchy. I was almost crashing at every corner. So we made a change, and now it's almost 10 times better. So, we'll just keep on moving forward and finish on the podium at every race."
Based on his past results in the season opener, Beaubier was also pleased with how things went over the course of the weekend and he leaves with a solid point score of 41 after a win and third-place finish.
"At the end of the day I'm pretty happy coming out of here with a first and a third and a decent amount of points - a lot more points than we've come out of the first round in the last few years," Beaubier said. "So, I'm thankful for that, but I'm pretty frustrated with how the race went. I felt like I got off to a lot better start than I did yesterday. My first couple laps were quite a bit better than yesterday. I just couldn't really do anything. I couldn't drive on anybody. We made a couple changes this morning and we didn't get to evaluate them. So we just kind of went into the race like that thinking it was going to be better. I think it was worse. But at the end of the day, we're coming out of here with good points, like I said. I can make all the excuses I want. I just got flat out beat. These two are riding really, really good right now. It was a tough day, but I'm happy we salvaged some good points, like I said, starting as far back as we did. I'm excited it's race season. Time to go racing."
Herrin ended up fifth in his second race on the Yoshimura Suzuki, the Georgian having crashed out of Saturday's race. M4 ECSTAR Suzuki's Jake Lewis was sixth, well behind Herrin and ahead of FLY Racing/ADR Motorsports' David Anthony, the team owner rider having a solid weekend with sixth-and seventh-place finishes.
Ameris Bank/CCFOfficeSolutions.com's Geoff May finished eighth with Gerloff and Omega Moto's Cameron Petersen rounding out the top 10.
Kyle Wyman and Jake Gagne both failed to finish. Wyman crashed the KWR Ducati and Gagne had mechanical issues with the Scheibe Racing BMW.
Supersport – Fong Gets It Done
In Supersport, Saturday's second-place finisher Bobby Fong came back strong on Sunday and notched the race win aboard his M4 ECSTAR Suzuki. Second-place finisher PJ Jacobsen kept Fong honest throughout the majority of the 18-lap race to record his first MotoAmerica podium result in his second race aboard his Celtic HSBK Racing Yamaha. Hudson Motorcycles – HB Racing Yamaha rider Richie Escalante finished third and dedicated the race to his grandfather after getting the sad news earlier in the day that he had passed away.
About his second-place finish on Saturday and race win on Sunday, Fong commented, "I'm definitely excited. It's good to be on top of the box for sure. After yesterday's misfortune, it's good to be back up here. PJ rode a great race. I was just trying to do consistent laps out there. I knew I could stay in the 28s for the whole race, and that's the goal. Late last night, I couldn't even sleep because all I was thinking about was strategizing how am I going to out-brake Hayden Gillim? Unfortunately, he wasn't there. That's one of his strong suits. Even if you're a faster rider, he would out-brake me every time. So, I was definitely thinking about strategies all night. Couldn't even sleep. When it came down to it, I just needed to worry about myself and focus on my own pace and what I could do, so that's what I did. I saw PJ and I didn't expect to see PJ there for sure. I knew he was going to be in the group, but I didn't know that when I hit the false neutral during the race, and I actually hit another false neutral in the last turn, that he was going to be right there. I thought for sure Hayden was just going to slam me right off the track. But it was good battling with PJ. Our bike definitely jumped off the corners compared with theirs. We definitely used ouradvantages today."
Liqui Moly Junior Cup – That Kid Rocco Again
In Liqui Moly Junior Cup, Saturday's race winner Rocco Landers did the double and got the win on Sunday aboard his Landers Racing Kawasaki. Almost a carbon copy of yesterday, he got a great jump off the line from the pole position, led the 11-lap race from start to finish, and pulled a gap of nearly five seconds. Dallas Daniels, the second-place finisher from Saturday's race, once again finished second on Sunday aboard his Quarterley Racing/On Track Development Kawasaki. Altus Motorsports rider Kevin Olmedo finished third to complete the podium.
After his second victory of the weekend, Landers compared the race pace from yesterday with today and said, "It felt faster, honestly. I could see the times and stuff, but (we) were flying. I could see on the first lap he got by me and I was like, this is going to be a battle. I enjoyed it a lot."
Stock 1000 – Lee Begins Title Defense With A Win
Last year's Stock 1000 champion Andrew Lee got his 2019 season off to a flying start with a win in Sunday's race. The Northern Californian is defending his title aboard his #1 Franklin Armory/Graves Kawasaki, and he stalked second-place finisher Michael Gilbert, who led the majority of the race on his Team Norris Racing Kawasaki until Lee made his decisive move and took the checkers. MESA37 Racing's Stefano Mesa came in third, making it a Kawasaki podium sweep.
"I knew coming into this year with the number-one plate that I was going to have a big target on my back, especially with these two guys next to me," Lee said. "They're both riding phenomenally. My Franklin Armory/Graves Kawasaki ZX10R was just on rails today. I didn't really want to make a move on Michael too early because I was worried that then I'd have to lead. I wanted to task him with the hard part. So I was trying to conserve tires as much as I could. All race I was kind of coming up on the back of him going down that hill. I knew on the last lap that I had to get a good drive out of turn seven. I got a little loose out of it, but I got a really good drive and came up on the back of him. Also coming up the inside, I've seen so many people tuck the front there today. I did not want to be another one on that tally. So, I was really cautious, and I kind of ran it wide. Then I knew for sure that Mike was going to kind of come squaring me up. I didn't want to come back too hard on him because I didn't want to risk him or my race at all."
Twins Cup – Barnes Does The Double
The same podium finishers in Saturday's Twins Cup race were again on the podium in Sunday's race, and Quarterley Racing Ducati rider Michael Barnes was the race winner for the second day in a row. Barnes once again showed that experience (age) is the secret to success as he had the measure of his competitors. Defending class champ Chris Parrish improved on his Saturday third-place result by finishing second on Sunday aboard his Ghetto Customs Suzuki, and RBoM Racing's Curtis Murray rounded out the podium in third.
"I got a horrible start," lamented Barnes. "Popped a wheelie off the start and just got eaten up in turn one. It was just everybody was coming around me and I was just dodging everybody from every angle. Then I just tried to make some moves after that. The Ducati really does run off the corner, but I was looking at the mile an hour and those little Suzuki's seemed to be okay mile-an-hour-wise. So I wouldn't say I had that much of an advantage in horsepower when it just seems to come off the corner a little bit better. Maybe I'm picking up the throttle earlier, I don't know. Regardless, the Moto Corse Performance Quarterly Racing Ducati is really good. Like I said on the podium, I think you might see more Ducati's on the grid after this first round. I just couldn't be more pleased with coming back and doing a double."
EBC Brakes Superbike
Toni Elias (Suzuki)
Mathew Scholtz (Yamaha)
Cameron Beaubier (Yamaha)
JD Beach (Yamaha)
Josh Herrin (Yamaha)
Supersport
Bobby Fong (Suzuki)
PJ Jacobsen (Yamaha)
Richie Escalante (Yamaha)
Jason Aguilar (Yamaha)
Bryce Prince (Yamaha)
Liqui Moly Junior Cup
Rocco Landers (Kawasaki)
Dallas Daniels (Kawasaki)
Dominic Doyle (Kawasaki)
Gauge Rees (Kawasaki)
Damian Jigalov (Kawasaki)
Stock 1000
Andrew Lee (Kawasaki)
Michael Gilbert (Kawasaki)
Stefano Mesa (Kawasaki)
Travis Wyman (BMW)
Chad Lewin (Yamaha)
Twins Cup
Michael Barnes (Ducati)
Chris Parrish (Suzuki)
Curtis Murray (Suzuki)
Draik Beauchamp (Yamaha)
Alex Dumas (Suzuki)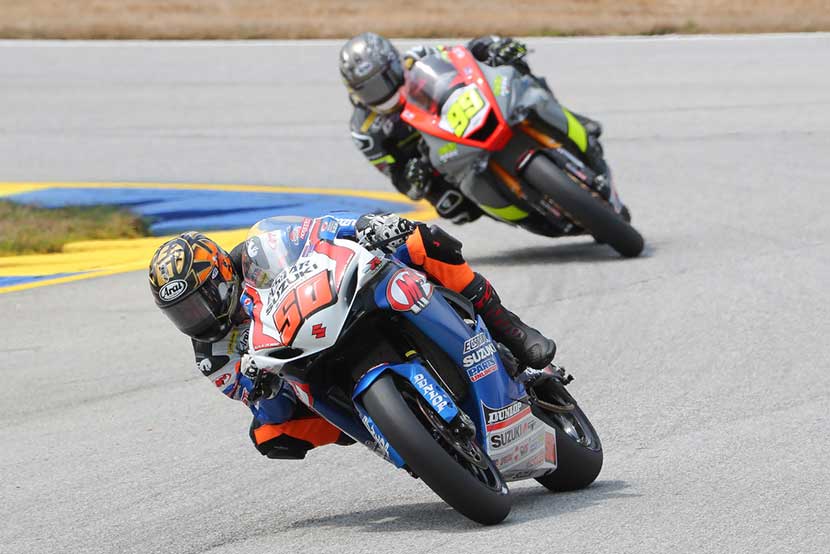 Toni Elias (24) won the second EBC Brakes Superbike race at Michelin Raceway Road Atlanta, besting Mathew Scholtz (11), JD Beach (95) and Cameron Beaubier (10).
|Photo by Brian J. Nelson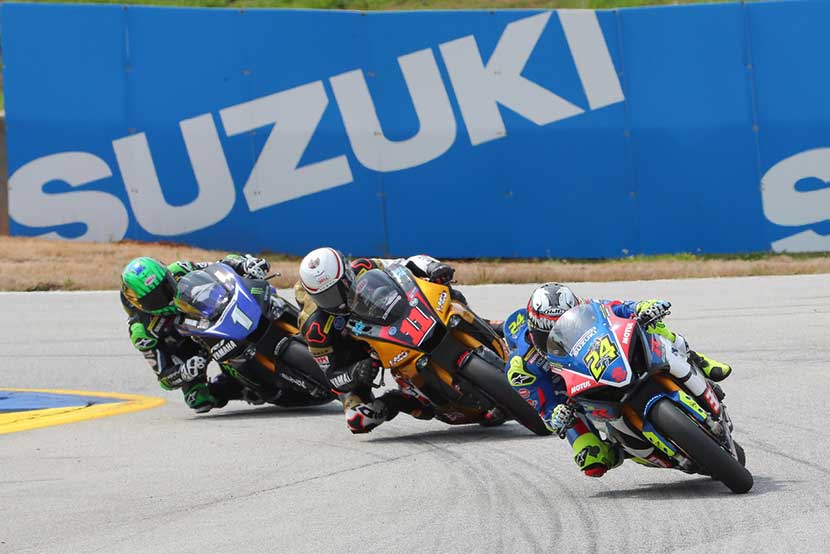 The battle for victory came down to Elias, Scholtz and Beaubier and they finished in that order.
|Photo by Brian J. Nelson
Sunday photos are available HERE Sunday results by class: EBC Brakes Superbike
Supersport
Liqui Moly Junior Cup
Twins Cup
Stock 1000 Complete practice, qualifying and race results are available HERE. For complete 2019 MotoAmerica Media Resources please visit - 2019 MotoAmerica Media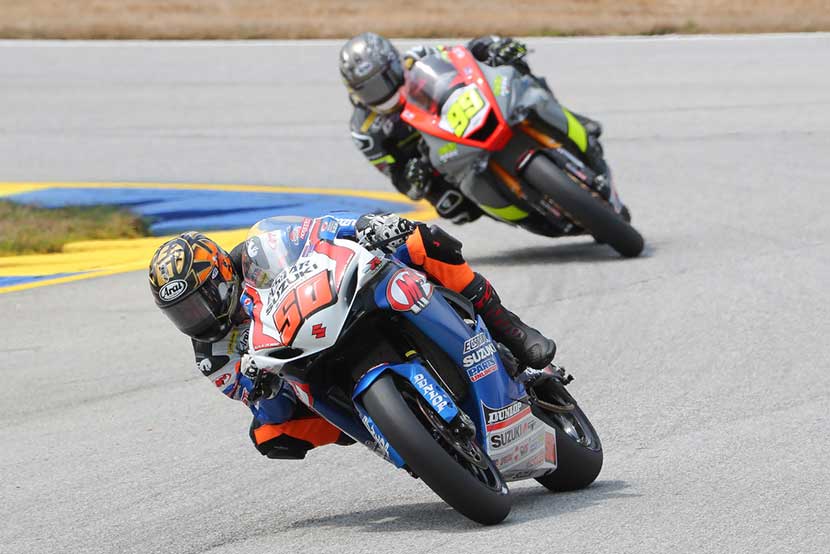 Bobby Fong completed a solid start to his Supersport title quest with a second place on Saturday and a win on Sunday. PJ Jacobsen (99) finished second.
|Photo by Brian J. Nelson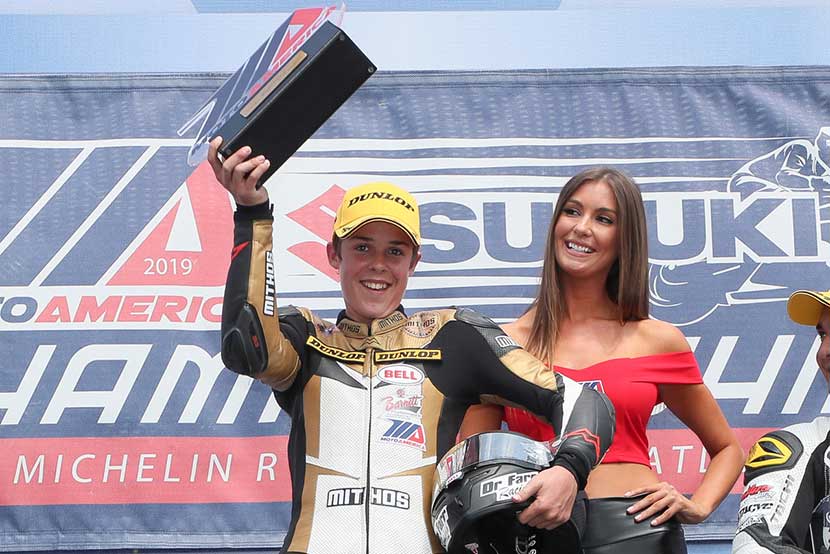 Fourteen-year-old Rocco Landers won his second straight Liqui Moly Junior Cup race on Sunday.
|Photo by Brian J. Nelson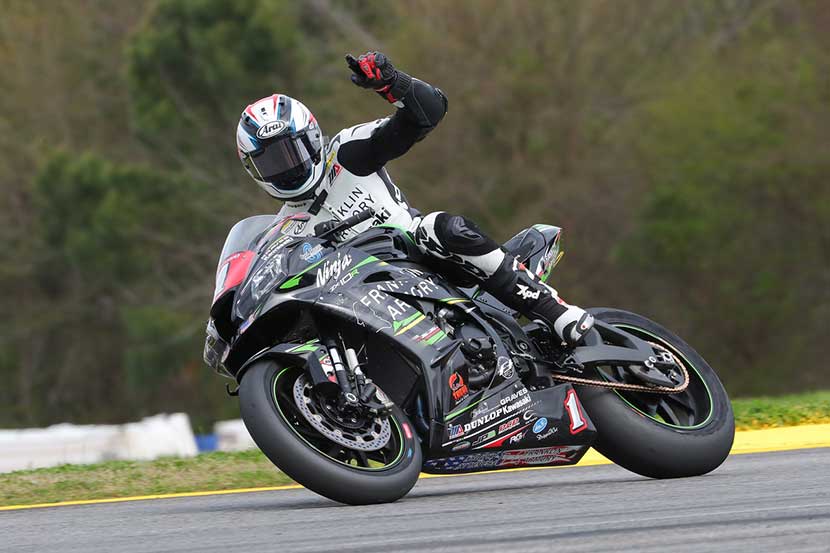 Andrew Lee won the first Stock 1000 race of the season.
|Photo by Brian J. Nelson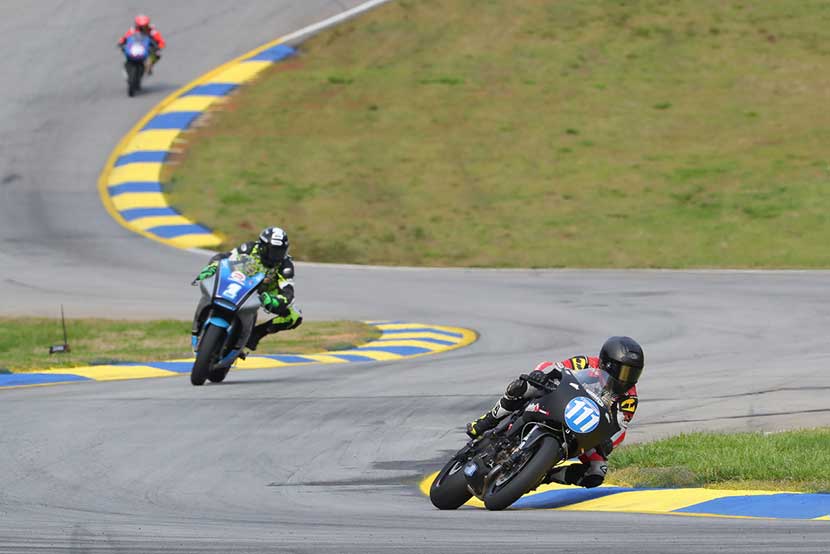 For the second straight day, Michael Barnes (111) won the Twins Cup race. Chris Parrish (1) was second.
|Photo by Brian J. Nelson