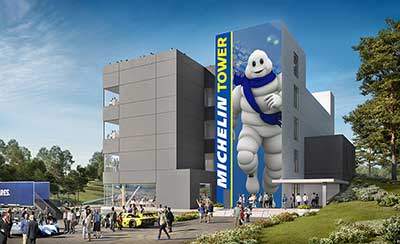 Beginning in January of 2019, Michelin North America and Road Atlanta will further their existing partnership and make history at the north Georgia race track, as it officially becomes Michelin Raceway Road Atlanta.
Michelin is writing a new page in the history books at Road Atlanta, as it becomes the first-ever entitlement partner of the track. Equally as significant, Michelin will lend its name to a race track for the first time in its existence.
Currently, Michelin North America serves as the Official Tire Partner at Road Atlanta. The front straight bridge is branded with the tire company's iconic Michelin Man, as are many other signs throughout the 750-acre property. As soon as the clock rolls into the new year, Michelin's existing presence at Road Atlanta will be substantially increased, as naming rights to the entire road racing facility will be transferred to the global tire company.