Details

Category: Motul Petit Le Mans
Created: Thursday, October 10 2013 09:07

10

Oct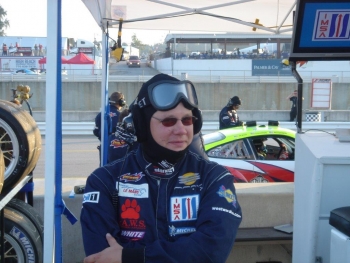 Petit Le Mans 2013 – 15 years of Memories, Part 2
By Dean Richardson
This blog is the second in a two-part series about my memories of the fantastic race that is Petit Le Mans. Here are a few more that I hope you will enjoy. This is what it's like to be on the 'other side' of the fence.
2004 – The chance of a lifetime!
The 2004 race is hands down my favorite race of all time, Petit Le Mans or otherwise. The reason is simple, I experienced the entire race working for one of the teams on pit lane. Through my day job I had become friends with the Petersen White Lightning Racing team's PR Rep. About a month before the race I got a call from the PR guy and he asked if I would be at all interested in working as part of the crew during the race. He explained that it would be an all-day commitment and that he understood if I wasn't interested. Thinking back through my life, I cannot think of a solitary time that I gave an answer to any question faster than the 'yes' that shot out of my mouth at that moment.